Suède: Un nouvel hôtel, un centre culturel... la plus haute structure durable au monde
C'est en octobre 2021 que Elite Hotels en Suède ouvrira un gratte-ciel de 20 étages comprenant un hôtel et un centre culturel qui sera fabriqué en bois. En plus de 205 chambres, l'hôtels aura une salle de congrès qui pourra accueillir 1 200 personnes. Et.. un restaurant, bar et spa sur le toit.
Cette initiative se veut un exemple de tourisme durable.
Voir le communiqué EN ANGLAIS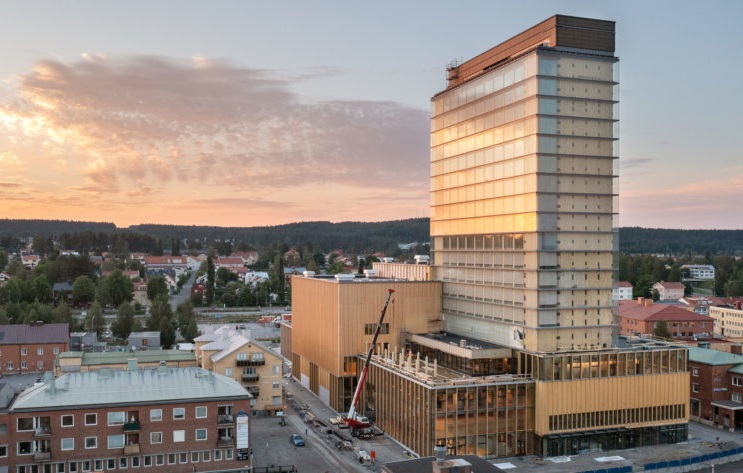 Sara Cultural Centre opens one of the world's tallest timber buildings
A new cultural centre in Skellefteå is opening its doors to the public for the very first time. Sara Cultural Centre delivers a state-of-the-art cultural venue and hotel that positively contributes to the local community while at the same time being an international showcase for sustainable design and construction. Standing at 75-metres tall, the carbon-negative* building is one of the world's tallest timber towers and a new typology for creativity in Skellefteå.
Five years after we won the competition to design Skellefteå's new cultural centre, the doors to Skellefteå's new public living room are now open. Sara Cultural Centre is home to Skellefteå Art Gallery, Museum Anna Nordlander, Västerbotten Regional Theatre, and the new City Library, alongside The Wood Hotel, restaurants, spa and conference centre. The building has different volumes that are tailor-made for the different activities housed in the building. At the same time, the cultural centre has been designed with flexibility in mind, so that the premises can be easily adapted to future needs.
Skellefteå has a long tradition of timber construction and a local timber industry, but many wood houses disappeared when the city centre was modernised. By combining the local timber tradition with innovative technology and engineering, the city's wood heritage is now being brought into a new era.
"One of the biggest challenges of the project was convincing people to build something that hadn't been built before. But with the will and ambition to break new ground in wood architecture and sustainable construction, we have now realised the project with a full timber structure." - Robert Schmitz and Oskar Norelius, Lead Architects
"What we see now is the result of a great collaboration both with the municipality, partners, and our interdisciplinary team at White, where we all have worked diligently towards the same goal", say Robert Schmitz and Oskar Norelius.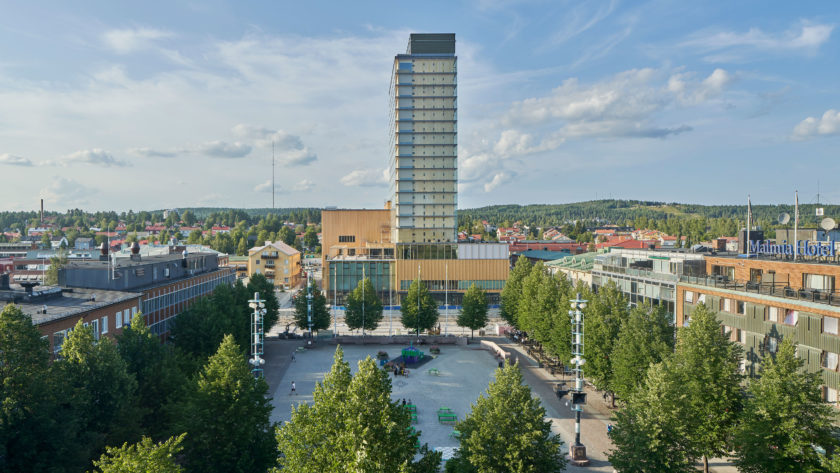 Photo: Åke E:son Lindman
Radically lowering environmental impact
The scheme signifies an important milestone for us at White Arkitekter, in our vision that all our architecture will be carbon neutral or better by 2030 – with timber construction forming a key cornerstone in the transition to net zero. Wood is the only renewable and carbon-neutral building material we know of and Sara Cultural Centre sequesters more than twice the carbon emissions caused by operational energy and embodied carbon from the production of materials, transportation, and construction at site. The conscious design combined with a ground-breaking energy system developed by Skellefteå Kraft and ABB reduce the energy use of the building. Solar panels on the roof produce renewable energy that, together with the timber structure, more than compensates for the carbon emissions caused by the building. Over 50 years, Sara Cultural Centre is a carbon-negative* building. And the building is designed to have a lifespan of at least 100 years.
"All the attention the building draws can be used to promote sustainable construction worldwide. We hope the project will help others in our collective transition to carbon neutrality", say Robert and Oskar.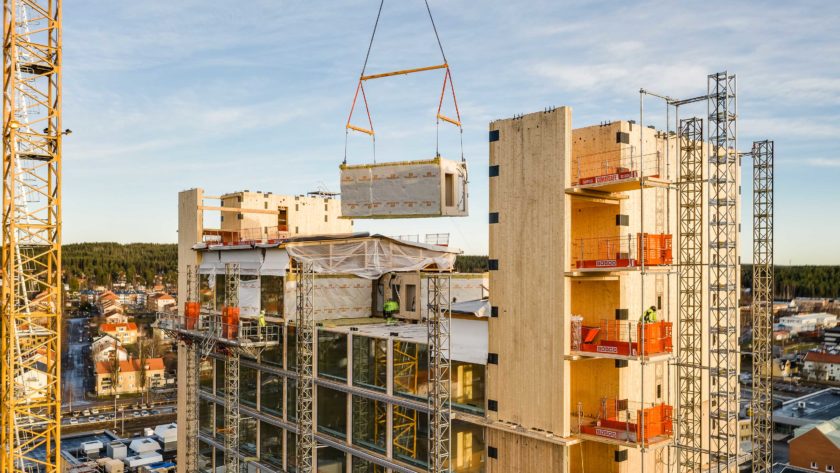 Photo: Martinsons / Jonas Westling
Timber innovation at new heights
Realising a full timber structure of a complex building with mixed uses, mixed volumetry, and a high-rise of 20 storeys, Sara Cultural Centre broadens the application of timber as a structural material.
The mixed-use programme called for a range of innovative solutions in mass timber construction to handle spans, flexibility, acoustics, and the overall engineering challenge. Two different construction systems have been developed together with Dipl.-Ing. Florian Kosche: one for the cultural centre and one for its sibling structure, the hotel. The 20-storey hotel is built up of prefabricated 3D-modules in cross-laminated timber (CLT), stacked between two CLT elevator cores.
The lower rise cultural centre consists of a timber frame with columns and beams made of glue-laminated timber (GLT), with cores and shear walls in CLT. The two systems collaborate to distribute the shear loads of the tower using the least material possible. The characteristic trusses above the grand foyers are composed of a GLT and steel hybrid that enables a flexible, open-plan space that can adapt to different uses over time.
"Sara Cultural Centre is realised with timber as a massive, structural material, not just a surface layer on top for show. It's solid, warm, and human and you can feel it. Solid columns, beams, slabs, and walls shape the rooms and give them their own unique expression." - Robert Schmitz and Oskar Norelius
In a review of Sara Cultural Centre, the architecture critic and journalist Mark Isitt writes: "It's obvious that this is architecture that fits perfectly into its context, even a quick look tells you that".
A cultural centre for all
Sara Cultural Centre is a house for the people. A place to hang out, not just a space for art. It is located in the heart of Skellefteå between "The Square of Possibilities" and the new travel centre. The building was designed to open in up all directions in order to activate the surrounding streets. Spaces that are usually hidden behind the scenes are open and visible from the street, showcasing the craftsmanship behind the creative process. Open layouts, generous and transparent glazing reveal the activities inside the building by passers-by, inviting them to enter. At the heart of the building lies a giant unprogrammed foyer that invites spontaneity, creativity and community and welcomes everyone regardless of their previous cultural interests. Inclusiveness and democracy run deep in Sara Cultural Centre's DNA. A community's cultural centre is nothing if it doesn't encourage dialogue.
"Sara Cultural Centre is an inclusive treasury for the ways in which people interact with each other, their community, and their culture. It has spectacular and bewitching spaces that offer professional creators the means by which to inspire and electrify. But this does not preclude the same energising arenas helping to coax beauty from those in our wider community who are driven to create", says Maria Ekberg, CEO, Sara Cultural Centre.
* Carbon-negative in terms of embodied carbon and operational energy are less than the carbon sequestration in wood. Please find the carbon budget for the building here.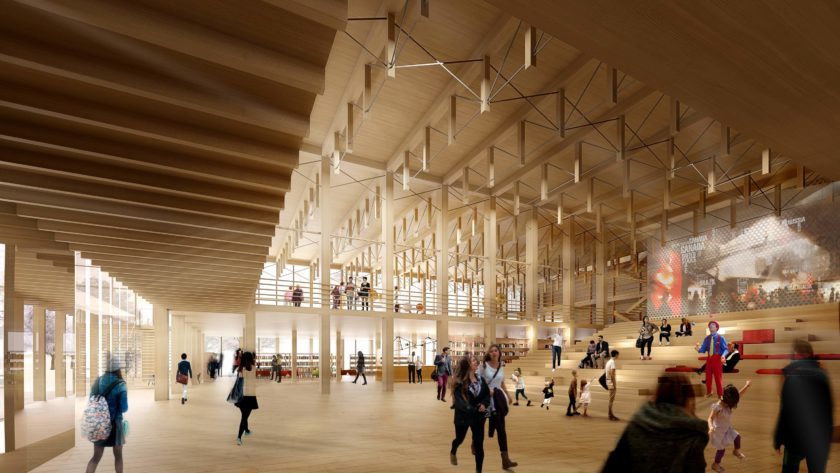 Source: White Arkitekter