Marriott to break ground and pave a new way with Solar Roadways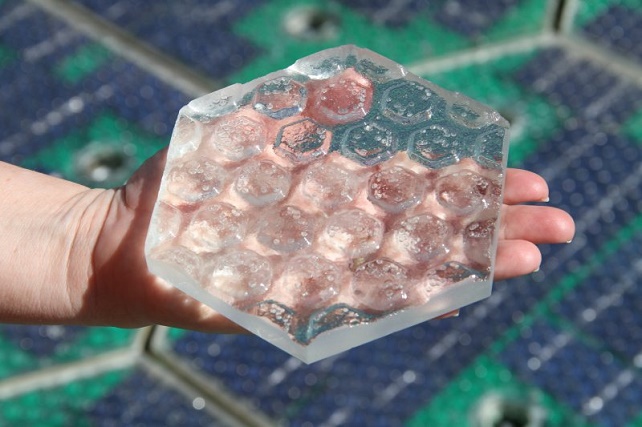 Collaboration La Relève: James A. Forester, Collège LaSalle - Ron Ayers, owner of a new addition of Fairfield Inn & Suites in Marriott's pipeline, has asked his design team to incorporate Solar Roadways panels on sidewalks and parking areas on the hotel project. (Roadways)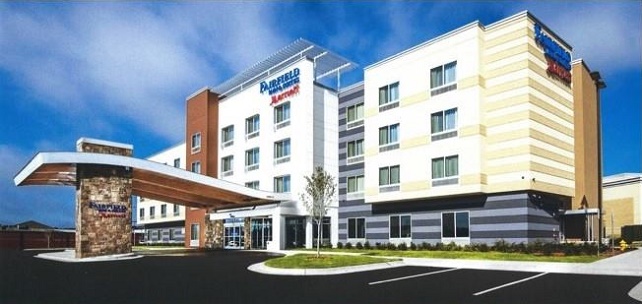 Proposed Fairfield Inn & Suites Hotel, in Coeur d'Alene at the site of the Garden Motel / Source: Facebook/Solar Roadways
PROPOSED PROJECT
At the current location of Ron Ayers, Garden Motel, the new four storeys, 112-room hotel, "will be a partially solar-powered, LEED Certified hotel" (Roadways) on a 5-acre mixed-use property in Coeur d'Alene, Idaho.
"'Coeurllaborate', the project name, will include an 18,000-square-foot business incubator called 'Incoeurbator', which will also house a makerspace, and a 16,000-square-foot co-working facility called 'Coeurwork.'"
"With plans to build a restaurant and a bank as well, a 170-stall parking lot will be made between those businesses and the hotel." (Walker)
ARCHITECTS
Focused on innovative and high performance design (Stauffer), Miller Stauffer Architects PA, of Coeur d'Alene, are the designers behind the new hotel (McLean, Spokane Journal). A company whose principals are: "the built environment should be an extension of the natural environment, good design is collaborative and fluid, and good design must be socially responsible" (Stauffer), it's a no brainer why the engineers/designers of Indiegogo's (hugely successful) crowdfunding campaign Solar Roadways were sought out to incorporate their product into the project.
SOLAR ROADWAYS ENGINEERS
Located only 60 miles south of Coeur d'Alene, in Sandpoint, Idaho, Solar Roadways laid down their first public energy solar powered road panels in their home town on Oct. 3, 2016. Hotel owner Ron Ayers met with Scott and Julie Brusaw, inventors of Solar Roadways, 11 days later, to discuss collaboration. The new Fairfield Inn & Suites is set to open sometime in 2017, and will join the list of Marriott's LEED-certified hotels.
"I believe our hotel will outperform the market. The public will realize they are supporting an economic development ecosystem just by staying at our hotel." - Roy Ayers (McLean, Spokane Journal)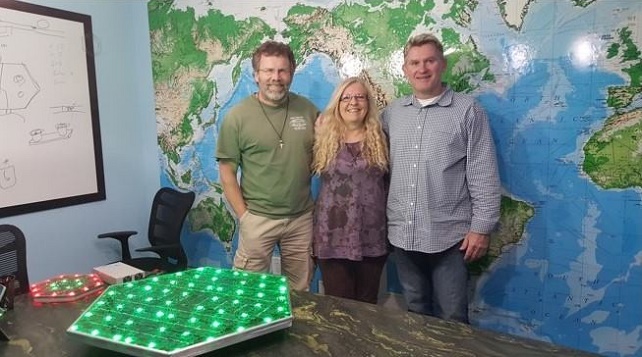 Scott and Julie Brusaw with Roy Ayers / Source: Facebook/Solar Roadways
PERSONAL INTEREST
In 2015, I learned about the Solar Roadways campaign. At the time, the crowdfunding campaign was over and Scott and Julie Brusaw had reached, and exceeded their goal of raising one million dollars. Due to public demand, their crowdfunding campaign, which was initially launched on June 21, 2014, was re-launched. To date, 50,038 people have contributed $2,275,163 to their project (Indiegogo).
For my contribution of $25 dollars, I received two standard Solar Roadways bumper stickers and a hexagon (same shape as their panels) sticker.
A student in Hotel Management and a Solar Roadways crowdfunding supporter, this collaboration makes me very happy and proud to be a part of both.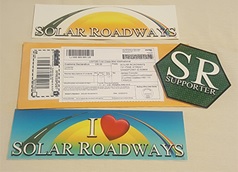 Source: Personal Photo - Gifts for being a Solar Roadways crowdfunding supporter.
BY: James A. Forester, Student, Hotel Management, LaSalle College
Sources:
Indiegogo. Solar Roadways | Indiegogo. Ed. Scott Brusaw and Julie Brusaw. 14 June 2014. Web Page. 28 November 2016.
McLean, Mike. 24 March 2016. Spokane Journal. Web Article. 11 November 2016.
Spokane Journal. 24 March 2016. Wed Article. 11 November 2016.
Roadways, Solar. 12 October 2016. Social Media Page. 12 October 2016.
Stauffer, Miller. n.d. web site. 11 November 2016.
Walker, Brian. cdapress. 21 January 2016. cdapress. Web Article. 11 November 2016.