Food for Thought: Research Shows Culinary Experiences Dictate holiday Choices for Canadian Travellers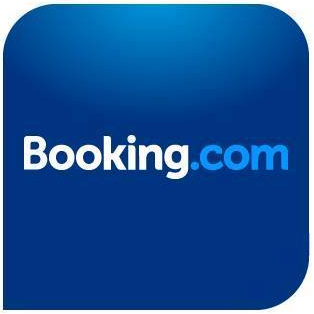 Forget listening to your heart, for Canadians it's all about listening to your stomach.
According to new research commissioned by Booking.com, the global leader in connecting travellers with the widest choice of incredible places to stay, nearly three quarters (69%) of Canadians would travel somewhere known for its food and drink. With the joy of trying local delicacies often becoming one of the highlights of any trip, it's clear Canadians have developed this taste for travel.
So, which destinations should be top of mind for those looking to sip, savour and sample their way through their next vacation? According to over 118 million real reviews from global travellers on Booking.com, the top Canadian cities for a salivating gastronomic experience are Vancouver, with its west coast charm and healthy treats, followed by the flavourful Quebecois cuisine of Montreal and thirdly the Nova Scotia Capital of Halifax, known for its fresh seafood and award-winning wines.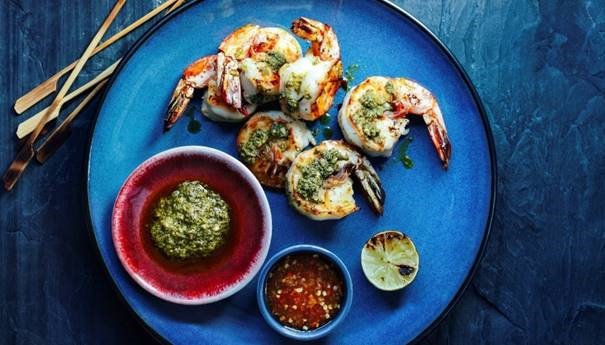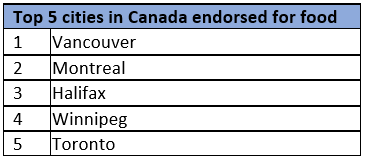 Globally, Asian and South American flavours were favourites in the top ten foodie destinations, with Greece, Australia and Spain not far behind. Hong Kong, with its famous dim sum, Sao Paulo with Brazilian barbeque and Tokyo, whose restaurants have accrued more Michelin stars than New York and Paris combined, top the list.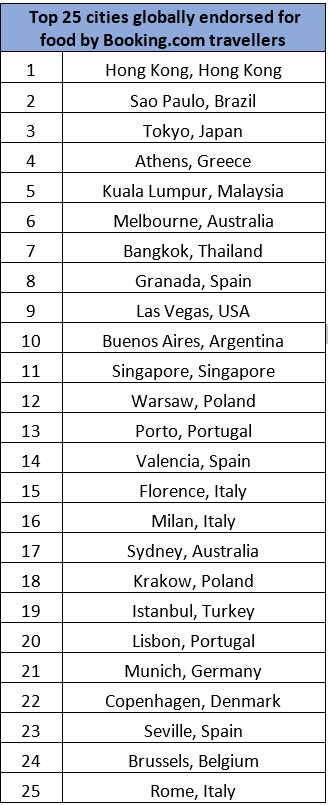 GASTRONOMIC TOURISM
In the last year, almost one in ten (8%) people have travelled to fulfil their hobby of fine dining and seven percent for their passion for wine. However, with 79% of travellers between the ages of 18 and 34 considering travelling somewhere that's specifically known for its gastronomic delights, it seems globally millennials are leading the way for gastronomic tourism. In fact, one in ten have combined their love of street food with travelling, compared to only four percent of those travellers aged over 55.
Pepijn Rijvers, Chief Marketing Officer at Booking.com comments:
Culinary travel is an ever-growing trend, with travellers planning trips centred on taste-inspired exploration and seeking to fully immerse themselves in the local culture, of which food plays a huge part. Not only are people looking for luxury gastronomic experiences, but also sampling local and street food.
By using real traveller reviews, of which there are over 118 million on Booking.com and growing each day, we're able to help travellers to discover the best places to explore as recommended by fellow travellers from the best neighbourhoods and dishes to try to discovering hidden gems beyond the mainstream culinary destinations."
Source: Booking.com
---
About Booking.com
Booking.com is the world leader in booking hotel and other accommodations online. It guarantees the best prices for any type of property – from small independents to five-star luxury. Guests can access the Booking.com website anytime, anywhere from their desktops, mobile phones and tablet devices, and they don't pay booking fees – ever. The Booking.com website is available in 43 languages, offers over 1.2 million accommodations including 651,583 vacation rental properties and covers 110,983 unique destinations in 227 countries and territories worldwide. It features over 118M reviews written by guests after their stay, and attracts online visitors from both leisure and business markets around the globe. With over 20 years of experience and a team of over 15,000 dedicated employees in 199 offices worldwide, Booking.com operates its own in-house customer service team, which is available 24/7 to assist guests in their native languages and ensure an exceptional customer experience.